Overview:
25 mins from airport
30 mins from St. John's
North-east side of island (Atlantic side)
3 Pools
2 beaches
2 Restaurants
1 Buffet
178 Rooms of which are in villas, many perched on Cliffside
All Inclusive
My initial thoughts are that this resort is ideal for families and long-stays as the suites are spacious have kitchens and living rooms. It`s a beautiful property, which is well maintained and has beautiful views.
This is a very large property which is made of several villas than run up a cliff, some are at ground level, and some have a spectacular view on the cliffside. The resort is partially ocean view, because it is so large, only some villas are close to the beach. There are busses that run up and down the cliff to take you to the beach. (though still maybe not ideal for those with mobility issues). There are pools throughout the whole resort on all levels. While this resort is on the Atlantic side, the beach isn't too wavy because it's in a bay. The beach has beautiful white sand and vibrant blue waters with lots of water sports available. The beach is fairly small, but didn`t seem crowded. (I was here in November though, which isn`t quite getting into busy season yet).
Accommodations:
The Verandah has Waterview Suites (Partial Oceanview), Hillside Suites (Gardenview), and Waterfront Suites (Oceanview). The Oceanview rooms are spectacular with views of the vibrant blue waters of the bay, perched over the cliff. It will however, take a while to get down to the bottom of the cliff (10 minute walk) and you would likely want to take the shuttle. All suites have 1 King + Sofabed, balcony or patio, seating area, full bath, mini fridge, microwave and coffee maker. There are usually 2 rooms per bungalow. For larger parties, I recommend you get a full 2 bedroom villa instead and have 1 king + sofabed, balcony, living room, dining room, full bathroom (shower), fully equipped kitchen/fridge, microwave, coffee maker etc.
Pools:
There are 3 pools, spaced out over the large resort at different levels. There is a small adults-only pool, and one is a large activities pool. There is no pool near the beach.
Beach: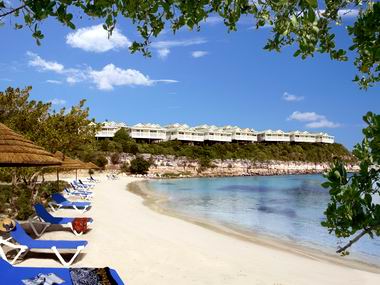 The beaches here are small, but the bay is very large for use of water equipment. Since the water is calm it is great for kids to go out and play. There were lots of people using boats, windsurfing, sailing etc. There is a very small beach as well that is very quiet and good for adults.
Food:
We had lunch here at the buffet which had a good variety, and good quality; lots of hot meals, a pasta bar, lots of salads and cold options, fruits. I was very surprised at the quality and variety here, one of the better buffet`s I`ve seen. They serve drinks to you at your table in the buffet and it was well-staffed.
Facilities:
This resort has a large spa ($) that is clean and well maintained, kids club, gym, and 3 restaurants total. Golf is nearby. There is a great location for weddings on site that overlooks the bay.
Overall, I recommend this for families, couples, and both long and short stays. It really has a variety which appeals to everyone. I really just don`t recommend this for those with mobility issues. The resort is far too expansive to take advantage of all of it`s services. If you love beach, water sports, and lounging by the pool, this is a great place to go. It`s a bit farther of a drive to get to St. John`s, but still very easy to do day trips. Check out the Verandah website here:
http://www.verandahresortandspa.com/